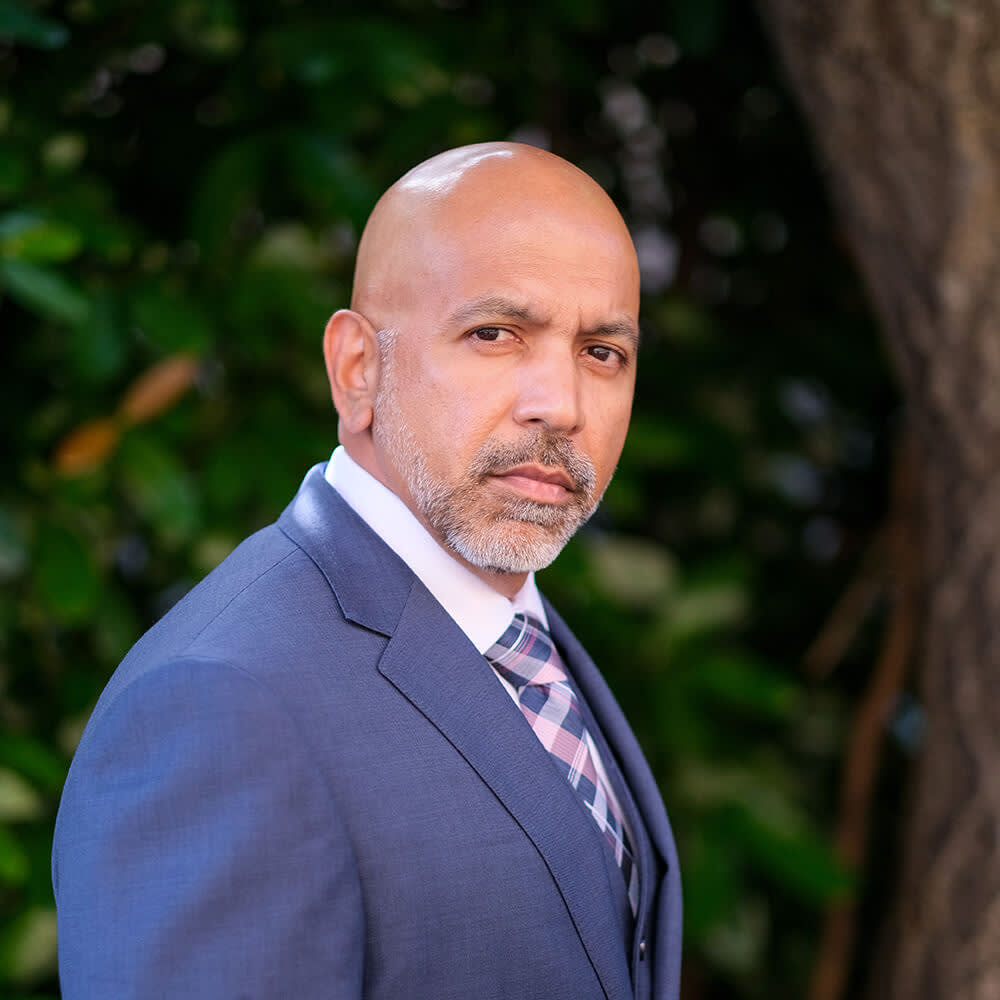 Shashi S. Jairam
Criminal Defense Attorney
Phone: 561-847-4726
Email: ssj@jjlawyerfl.com
Dear Prospective Client,
I have over 10 years of legal experience as an attorney practicing criminal law, both felonies and misdemeanors, to include DUIs. I'm also a former Assistant State Attorney in Palm Beach County and a US Air Force Retired Military Officer with 20 years in law enforcement. I bring a wealth of experience from various aspects of the criminal justice system--criminal defense, prosecution and law enforcement--to defend you! I do this by evaluating your case to see if your rights were violated, advising you on the best course of action based on the state's case, the law and police actions. Based on the circumstances, I may be able to have your case dismissed, use my professional working relationships with prosecutors to come to a satisfactory resolution, or even take your case to trial, if necessary.
I graduated cum laude from the University of Maryland School of Law and I have a Master's Degree in Criminal Justice and Criminology from the University of Maryland. As a former Prosecutor, I handled thousands of cases to include, Retail Thefts, Suspended License, Driving Under the Influence, Narcotics Possession, Grand Theft, Aggravated Assault with a Deadly Weapon and Attempted First Degree Murder. I have handled over 50 trials before 11 different judges. I served as Division Chief for a County Court Criminal Division. I was first in my year group to be promoted to a Felony Division. I have been rated as a Martindale-Hubbell®-AV Preeminent® Peer Review Rated Attorney and The National Trial Lawyers Top 100 attorney.
Bottom line: My goal is to work to protect your liberty by helping you to achieve a better outcome (dismissed or reduced charges, lesser penalties, diversionary program, etc.), which may help you to keep your job and life intact--without overspending for an attorney who is highly rated by clients. I'd love the chance to help you!
Education
University of Maryland School of Law, Baltimore, MD, Juris Doctor, May 2011, Cum laude and Top 25% class rank

University of Maryland, College Park, MD, Master of Arts, Criminal Justice and Criminology, December 1998, GPA: 3.89/4.0, and published Thesis on Personal Victims published by the Defense Technical Information Center

Wayland Baptist University, Plainview, TX, Bachelors of Science, Human Services/Criminal Justice, January 1993, Cum laude
Legal & Military Awards and Memberships
Martindale-Hubbell®-AV Preeminent® Peer Review Rated Attorney

The National Trial Lawyers Top 100

Avvo 10.0 Rating (Top Attorney) and Avvo Client's Choice Award

Directorate Action Officer of the Quarter, Pentagon, DC, 2005

Lance P. Sijan Leadership Annual Award, Altus, OK, 2000

Outstanding Security Forces Company Grade Officer of the Year, Altus, OK, 1999

Honor Graduate, Officer Defense Course, Ft. Dix, NY, 1994

Distinguished Honor Graduate, Police Academy, San Antonio, TX, 1994

Top Specialty Graduate of the Year, Reese Air Force Base, TX, 1990
Practice Areas
Criminal Defense — both Felonies & Misdemeanors

Drug Cases

Assault & Battery Cases

Domestic Battery
I am married to Laura Jairam, and have two daughters, Samantha Jairam and Natasha Jairam, both of whom are attending law school in Florida.